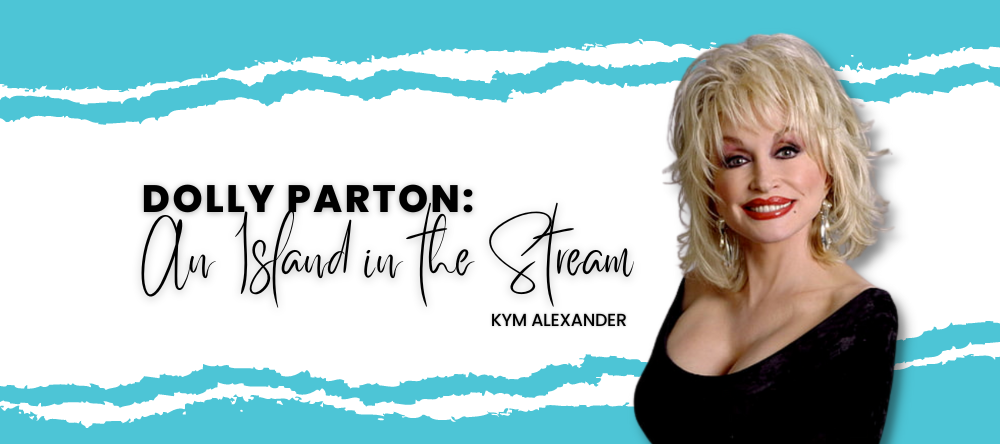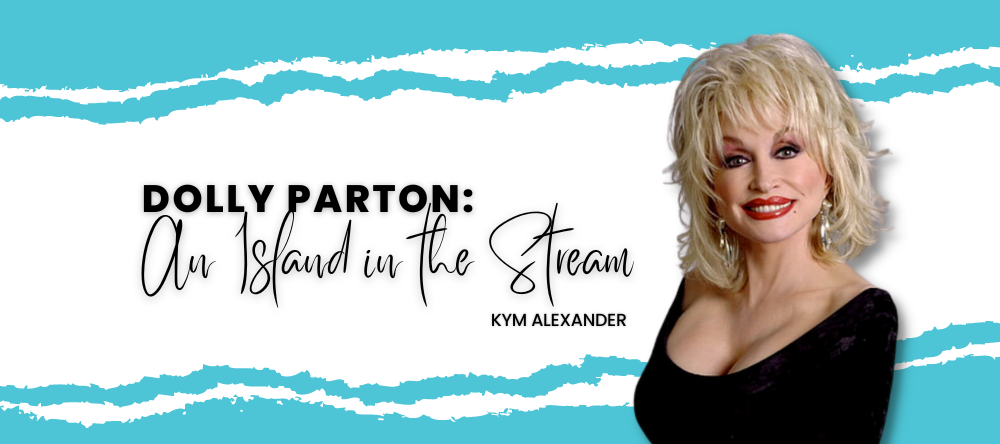 Little known fact: Did you know that one of Dolly Parton's greatest hits and her top country duet with Kenny Rogers, Islands In the Stream, was originally written by the Bee Gees for Marvin Gaye? 
The story is, once Marvin passed on it, it was given to Rogers and he didn't like it until Dolly was asked to add her vocals. Once she "Dolly'd" it up, the song was a hit. After it was released in 1983, the song went to No. 1 on Billboard Hot 100, topped the adult contemporary charts and the country charts, and went certified platinum with more than two million physical copies sold! Sorry to the younger generations but there was no streaming back then! 
The song found its way back into the mainstream 15 years later when Pras sampled the chorus in the 1998 hit, Ghetto Supastar (That Is What You Are). 
So when Adriane and I were brainstorming women we'd like to uplift for March's Women's History Month, and Dolly's name came into conversation, I realized just how much my life had d been shaped by my fellow Tennessean, Dolly Parton. 
Digging deeper than the perfectly placed rhinestone studs, the sky-high blonde hairdos, the flamboyantly fun makeup, and the miles-long acrylic nails, I found respect for who she is and has always been as a woman. 
Dolly isn't new to standing up for what she believes. As I look back, I realize how often her voice has impacted my life. 
From watching the movie 9 to 5 with my mom when I was 5 years old and seeing strong women stand up for themselves as we cheered them on from our couches to the way she adeptly handled the outrage about her movie Best Little Whorehouse in Texas. There is also my memory of a busty, life-size, butter sculpture of her at the Mid-South Fair in Memphis that's etched in my memory forever. I was learning about womanhood from her early in my life. 
Later, in my teens, I would discover the longing and pain in her 1973 hit song Jolene. I would learn that she wrote I Will Always Love You, a song made most famous by Whitney Houston. I even found out that Dolly thought Whitney's version was better than hers and admitted it whenever asked. Supporting other women is repeatedly credited to Dolly in the industry.
In my 20s, I discovered her version of Peace Train listening to the dance remix by Junior Vasquez. And after my daughter was born, for her first five years we received monthly Books from Birth sponsored by Dolly Parton's Imagination Library. We received the book Dolly wrote, too – A Coat of Many Colors – and we loved them all. 
Dolly has modeled love in action for decades. She first spoke out in favor of gay marriage in 2009 and spoke out against anti-transgender bathroom bans in 2016, in spite of the risk of angering some of her fans.
As she ages, Dolly is not going quietly into the sunset. Instead, she has made the decision to turn the volume up on issues that matter, especially to disenfranchised people and communities. 
She made news in 2020 when she gave $1 million to Vanderbilt University for COVID-19 research. She is also an advocate for LGBTQ folx and spoke up for Black Lives Matter, all with grace and aplomb.
Now though, I am especially moved by her love and commitment to speaking out on behalf of the LGBTQ+ community, specifically because the Tennessee legislature has passed new anti-LGBTQ laws banning drag performances in public and banning gender-affirming care for teenagers. Her impact on the LGBTQ+ community was apparent as protestors sang 9 to 5 while the Tennessee Legislature debated the anti-drag bill.
New laws, not just in Tennessee but in states across the U.S., threaten the humanity and dignity of too many of our neighbors and are far from the Christian values they are supposedly based on. As Dolly so eloquently put it in a 2014 Billboard interview, "But as far as the Christians, if people want to pass judgment, they're already sinning. The sin of judging is just as bad as any other sin they might say somebody else is committing. I try to love everybody." She is an LGBTQ icon. 
Standpoint Consulting is a Black woman and LGBTQ-owned firm. All of us at Standpoint share the values of equity, humanity, dignity, and integrity for all humans. Dolly has stood for these things as a matter of course throughout her life. It touches me deeply to know that she stood up for the LGBTQ+ community early and often. Her life and the way she uses her voice is a how-to model of advocacy.
Dolly Parton uses her voice to support her core belief that all people are equal and have value. Her voice has been a positive influence on me most of my life and I didn't even realize it. She's an inspiration to many and definitely a woman making history.