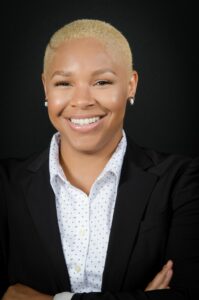 A native Memphian, this self-proclaimed extrovert incorporates play into information gathering and training sessions with clients. "I want people to think about work differently. Bringing an element of play changes people's energy, lets them be creative and light hearted." Another added benefit? This changed perspective helps employees to receive messages more comfortably and with an open mind. 
At Standpoint Consulting, Ms. Brooks works with organizations to target the results they need to be successful. As part of our team, she plans how best to facilitate conversations within an organization, creating a safe space that allows multiple stakeholders to feel brave, and she asks the meaty questions. She is adept at managing group dynamics and maintaining respectful dialog. Ms. Brooks is able to create curricula and training plans that incorporate employee voices and guide the implementation within the organization if that is the direction leaders choose.
"I like explaining things to people, taking what is difficult or challenging or hard and relating the curriculum in a way that is more understandable. Even in the best organization, there is room for improvement and work. Consistently learning and exploring is what helps us to get better. Would you rather eat jambalaya where the cook had constantly tasted it and adjusted the seasoning, or from a cook who went straight from a recipe?" At Standpoint, we believe that a curriculum for your people by your people allows you to be creative and to explore content, to adjust to your individual business needs for more sustainable outcomes.
Kayla Brooks holds a Bachelor of Science from Vanderbilt University in Human and Organizational and a Master of Public Service from the Clinton School of Public Service.
Certifications:
Manufacturing Excellence White Belt, International Paper
Myers-Briggs Type Indicator Certified Practitioner, The Myers & Briggs Foundation
Qualified Results Based Facilitation Practitioner & Coach, Results Based Facilitation Network